Online training in Trade Finance Compliance.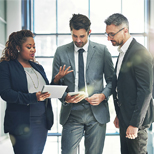 This online training course provides you with the technical knowledge required to succeed within the trade finance compliance landscape.
The course materials will:
Provide a detailed introduction to trade and trade products for professionals.
Identify the best practices for exercising due diligence in trade transactions.
Provide comprehensive steps in overcoming the common types of financial crimes that are facing financial institutions today.
Explain the indicators bankers need to be aware of in order to take proactive steps in preventing their financial institution from becoming a victim of financial crime or incurring a regulatory fine.
Discuss how financial institutions can identify and prevent the occurrence of money laundering, terrorism financing, bribery, commercial fraud and the proliferation of weapons of mass destruction.
The training is divided into 2 Modules:
Module 1: Trade Based Financial Crime Compliance
Lesson 01. An Introduction to Trade Based Financial Crime Compliance
Lesson 02. Trade
Lesson 03. Financial Crime Regulation
Lesson 04. The Compliance Programme
Lesson 05. Exercising Due Diligence
Lesson 06. Indicators of Trade Based Financial Crimes
Module 2: Combating Financial Crimes
Lesson 07. Anti money laundering
Lesson 08. Counter terrorism financing
Lesson 09. Sanctions
Lesson 10. Weapons of mass destruction
Lesson 11. Anti bribery
Lesson 12. Commercial fraud
Lesson 13. Anti boycott
Quality
This "Trade Based Financial Crimes" online training course has been developed in collaboration with compliance and trade experts from around the world. Truly International – designed to be relevant for staff worldwide.
Consistency
As the training is delivered online, each member of your staff can be trained to an approved standard regardless of location.
Convenience
The training courses come complete with a Learning Management System so organisations can easily manage allocation of the training and keep track of trainees' progress and results. Trainees have access to the course material for 1 year as a reference tool.
Professional Development
Gain 12 CPDs for CDCS recertification.
Value for money
Save time and money by taking the course online. With prices starting at €300 per trainee – and discounts for volume orders – TBFC Online is a very cost effective way to train your staff.
Discounts are offered for multiple orders as follows:
1 to 9 trainees - €300 per trainee
10 to 49 trainees - €250 per trainee
50+ trainees - €200 per trainee
To talk through your specific requirements call +353 1 2352166 or email us at info@coastlinesolutions.com.
Click here to e-mail us your requirements, and we will prepare a quotation to match your needs.
Don't take our word for it. Try it for yourself
To evaluate whether URBPO fulfils your training needs, you can avail of a free evaluation of the service. Simply click here and provide us with some simple administrative details so that we can provide you with personal access to selected parts of the service.