Going global contains over 40 hours of advanced online instruction and training.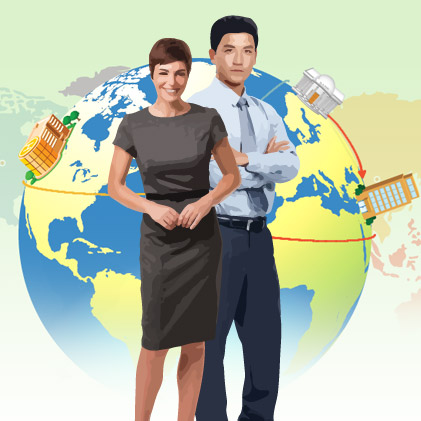 Assessment:
Each trainee completes an end of course assessment. This involves a series of online multiple-choice questions covering all aspects of the course.

Certificate:
On successful completion of the Assessment module, trainees will receive an ICC Certificate of Achievement detailing their personal results. To qualify for a Certificate a minimum score of 55% must be achieved.
Overview of International Trade - provides an overview of the additional considerations to be taken into account when looking at international trade.  This sets the scene for the more detailed lessons that follow. It examines the challenges, pitfalls and risks of an international sales transaction and the most common techniques used to mitigate them. It also looks at the legal framework for international trade and the role of the leading international organisations that regulate it.
International Sales Contracts - gives guidelines for both exporters and importers when negotiating an international contract of sale. It also reviews the ICC's model contracts, with a particular focus on the ICC Model Commercial Agency Contract, the ICC Model Distributorship Contract and the ICC Model International Franchising Contract.
International Trade Terms - analyses international trade terms with a specific focus on ICC's Incoterms® 2010 rules. It examines how the various costs and responsibilities in international sales of goods are shared between buyers and sellers under each Incoterms® rule.                                                                                                  
Documents in International Trade - teaches how trade documents underpin the international sale of goods, and provides an overview of the contents and functions of the main documents in international trade.
International Transport - examines the additional considerations involved in the International Transport of Goods, whether by sea, by air, or by land. It focuses on the different business, legal and documentary frameworks required for each mode of transport and the key issues involved. It looks at transport documents used and examines commercial practice and terminology relating to sea, air, rail and road transport, as well as the roles played by carriers, freight forwarders, agents and brokers.
Customs and ATA Carnets - This lesson sheds light on the key elements of licences and quotas, duties and taxes, as well as the role of brokers and agents. It also looks at the Harmonized Tariff System (HTS) and outlines the ATA Carnet System in detail.
Finance of International Trade - explains the additional risks and complexities of international trade finance. These lessons examine the various international payment and payment security options including:
Payment in advance
Documentary Credit
Guarantees and Standby Letters of Credit
Documentary Collection
Open Account
International Trade Law and Dispute Resolution  - These lessons examine the legal environment of international trade transactions. They review the major legal systems that help traders manage their legal risks and resolve disputes fairly and efficiently. They also cover international dispute resolution and the operation of the ICC International Court of Arbitration.
eCommerce in International Trade - examines electronic payments, digital signatures, and other matters related to trade in the electronic era.
Intellectual Property - looks at trademarks, trade secrets, patents and other aspects of IP and the additional risks and considerations when dealing internationally.
Online delivery:
Access is provided for 1 year. In this time trainees may review the materials as often as they wish.
The entire course is delivered online.
Training anytime, anyplace
Self paced – trainees take the course at their own speed to match their requirements
Reduce travel and facilities costs
Multi device
Going Global is optimised for delivery over all major technology platforms including
Desktop
Laptop
iOS
Android
Tablet
Smartphone
Trainees can take the training when and where it suits.
Multi-language:
The course is available in English, Spanish and Portuguese. Simply select your preferred language when starting.
Discounts are offered for multiple orders as follows:
1 to 9 trainees - €300 per trainee
10 to 49 trainees - €250 per trainee
50+ trainees - €200 per trainee
To talk through your specific requirements call +353 1 2352166 or email us at info@coastlinesolutions.com.
Click here to e-mail us your requirements, and we will prepare a quotation to match your needs.