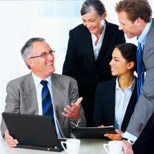 Introduction to Trade Finance
This course contains 4 hours of structured online training providing an introduction to trade finance.
The objective of this training course is to provide better understanding of trade finance products, principles and risk management.
This course is delivered in English, French and Russian.
Developed by Coastline Solutions in collaboration with EBRD.
The training is divided into 4 Modules:
Module 1: Financing International trade
This section looks at the key considerations you need to think about when getting involved in International Trade and how the Trade Finance Services of banks can help you.
The role of banks in facilitating international trade
Some of the challenges in international trade
The risks and costs of international trade
The difference between using Trade Finance Products for International Trade, compared to using traditional Local Bank Financing
Module 2: Trade Finance Products
The most common Trade Finance Products used in International Trade are Documentary Collections, Documentary Credits and Guarantees or Standby Letters of Credit and Trade Loans.
This section looks in greater detail at each product, identifying the benefits and risks to both the exporter and the importer and the product cycle from application to final payment.
Module 3: International Trade Documents
In this section we will outline the role of commercial and transport documents in facilitating international trade and finance.
We will look at:
The role of commercial and transport documents in international trade and finance
The most commonly used commercial and transport documents
Basic role of financial documents
How documents can on occasion be used to control the goods
Module 4: Assessment
The Assessment module provides trainees with the opportunity to test their understanding and practical application of trade finance products to undertake secure international trade business.
Quality
The training content is written by top experts in Trade Finance.
Consistency
Each member of your staff can be trained to an approved standard regardless of location. Every trainee receives a 'Certificate of Achievement' on completion of a course indicating their personal results.
Convenience
The training courses come complete with a Learning Management System so organisations can easily manage allocation of the training and keep track of trainees' progress and results.
Value for money
With prices starting at €99 per trainee – and discounts for volume orders – our Introduction to Trade Finance online training is a very cost effective way to train your staff.
€199 per trainee
To talk through your specific requirements call +353 1 2352166 or email us at info@coastlinesolutions.com.
Click here to e-mail us your requirements, and we will prepare a quotation to match your needs.
Don't take our word for it. Try it for yourself
To evaluate whether Collections Online Training fulfils your training needs, you can avail of a free evaluation of the service. Simply click here and provide us with some simple administrative details so that we can provide you with personal access to selected parts of the service.